The ILSE Consulting Network (ICN) is a business unit of ILSE Labs organized to provide coordinated consulting services to meet the technical and business needs of affiliates, clients and collaborators of ILSE.  The network consists of an extensive team of experts possessing a comprehensive range of proven scientific, business, and leadership expertise in the life sciences.  The ICN is a network of consulting organizations working in concert, through an "ICN Oversight Committee", to identify and understand client needs, and provide the most appropriate blend of expertise to meet the needs.
Partners

Synergy Partners is an extensive network of scientists with expertise in all areas of pharmaceutical R&D, including senior executive and project level expertise in discovery, pre-clinical and clinical development, and in worldwide regulatory affairs. Synergy specialize in partnering with biotech drug discovery companies to take programs from early discovery through successful IND and into clinical development.

TRN provides translational support for a range of pharma, biotech and academic projects in the United States, Europe and Australasia, and is a formal member of the EU IMI ENABLE consortium, tasked with identifying and progressing novel antibiotic leads to development candidates.  In addition to providing core consultancy support, TRN is also uniquely placed to provide international connections to expertise and technologies for clients.

Novateur is a drug development consultancy, specializing in projects from pre-clinical development to approval. Area of expertise include Regulatory & quality control, CMC & Analytical development and Clinical development.
AREAS OF EXPERTISE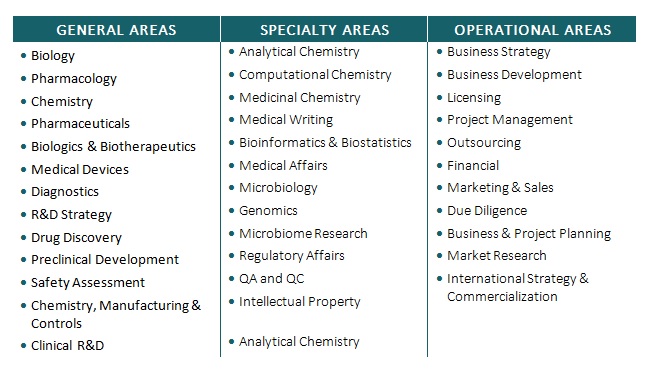 ICN ADVANTAGES
The ICN is uniquely poised to advance the goals and objectives of its clients through:
Centralized client relationship management and oversight of client services
Client on-boarding process that leads to a meaningful, upfront understanding and definition of client needs and their match over time with the best and most appropriate talent and experience from the ICN
Access to the entire spectrum of ICN knowledge and expertise across all disciplines in the life sciences, tailored to your specific needs
Consultants at strategic, project leadership and project team levels
Flexibility to readily source additional consulting resources as further bandwidth, specialty skills, industry knowledge or functional expertise are needed
Consultants who are known to each other and experienced in working on multidisciplinary projects
Virtual, semi-virtual and integrated project teams for broader thinking, cooperation and contributions to drive program success
Single point of accountability and single monthly invoicing for all associates utilized on the project allows for easy and efficient management of the engagement
For our Consultants, the ICN provides the following support and facilities:
Connection to ILSE projects
Connection to other specialists
Literature access
Contracting and payment coordination
Professional Indemnity Insurance
Office and meeting facilities at ILSE
Secure project communications
Ongoing process and administrative support
To access specialist expertise, contact us.
To join the ILSE Consulting Network, visit our ICN Consultants page.